Hello friends, hopefully you are doing good. In this post, you will learn step by step process to withdraw webmoney in Pakistan securely with trust. Webmoney platform supports Pakistan based users so you can use their system in order to buy and sell Webmoney in Pakistan using kukichanger exchanger.
Many people in Pakistan who are earning money through Adsterra Network looking for ways to withdraw webmoney to easypaisa, jazzcash. Kukichanger is one of the most trusted Online earning withdrawal solution you can use to withdraw Webmoney WMZ in Pakistan.
Webmoney Payment System
Webmoney is global online payment system based in Russia and its 100% safe to use. It's a well known and established platform for receiving payments through different online website and majority of big stores like Aliexpress also accept their payment gateway. Majority of Forex websites like IQ option and many others support this payment gateway.
Kukichanger Webmoney to Easypaisa
Kukichanger is a well established e currency exchanger in Pakistan and their mission is to provide safe webmoney withdraw service where you can sell webmoney in Pakistan. You can also use Kukichanger in order to buy webmoney in Pakistan.
For reviews/proofs you can check kukichanger testimonials section. Live chat service available during working hours (10 AM TO 10 PM).
How to Trust on Kukichanger?
Webmoney Verified with Business Rating 400 plus
Perfect Money Certified With Trust Score 300 plus
Listed on Exchange Monitoring sites.
Instant Payments during working hours.
Working From Last 3 Years.
Thousands of Satisfied Webmoney exchanges.
Reviews/Proofs/ listed in the testimonial section.
Here are the step by step instructions to withdraw webmoney wmz in Pakistan.
Withdraw Webmoney in Pakistan | WMZ to PKR
First of all register on kukichanger website (Username must be unique like usama7897)
Register Link : https://kukichanger.com/register
As you successfully registered you will automatically login into website dashboard.
In order to withdraw, select send option as webmoney and receive option as Bank account Pakistan or Jazzcash.
Click exchange button and then enter your email and bank account details such as account no, branch code etc.
Checkout the total amount you need to pay including fees (Normal fees is 2.99% and for more than 200$ fees is 1.99%)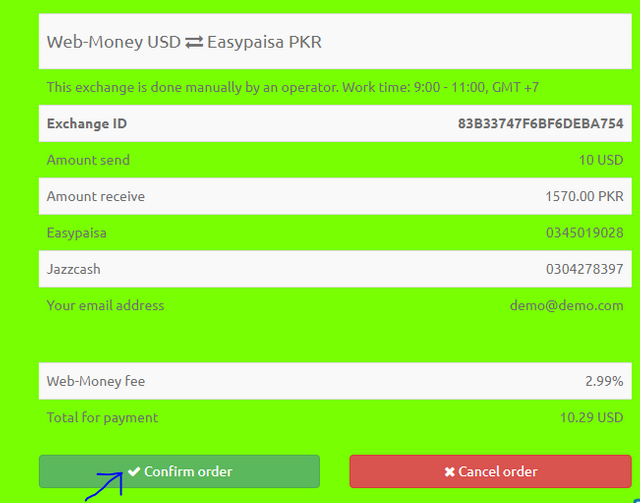 Click on confirm order; now you have to transfer funds to our provided WMZ wallet.
After funds transfer enter transaction ID to confirm order.(Check out below video if you do not have any idea about web money transaction ID )
Order processing time is 20 minutes during working hours (10 AM to 10 PM)
So, these are simple steps to withdraw Webmoney in Pakistan, WMZ to Pkr with Webmoney to easypaisa, jazzcash and bank account. If you need more assistance you can whats app 03180597494.
Note: We are not financial institution and we do not recommend any online investment activity. If you are investing on any website then invest at your own risk. We only support online freelancers who are looking to withdraw Webmoney in Pakistan.